The matches made in heaven, that found themselves in development hell.
---
In this streaming era of music, the collaborative album could not make more sense. The combination of audiences and the halved work time for rappers appeal to the labels in the sense that this is really a guaranteed money maker. But while it appeals to the corporate side of music financially, it appears to be pure fun for the artists; as albums like Young Thug and Future's Super Slimey and 21 Savage, Offset and Metro Boomin's without warning seems to be testaments to their friendships, with a little bit of competition sprinkled in.
However, along with the collaborative album trend, have come so broken promises. Albums that artists have teased to us have never come, and often, there's never really a clear explanation as to why. Most likely, it's different commitments and the inability to make scheduled align. But we can't help but still long for these projects, and imagine how they would sound. Here are 7 collaborative albums that were announced, but were never actually released.
Lil B, Lil Yachty & Soulja Boy – Pretty Boy Millionaires 2
Pretty Boy Millionaires 2 was slated to be a movie. Lil B and Soulja Boy reuniting, Lil Yachty in his prime, what more could you want? Unfortunately, like the Lil Yachty and ILoveMakonnen mixtape that was rumored, it never came to fruition. Not too mention, Soulja Boy and Lil Yachty were beefing shortly after the announcement over India Love. Imagine what it would have sounded like; banging, trap beats, a mixture of Yachty's autotuned croons, Lil B's based bars, and Soulja Boy's swag rap; a dream.
A$AP Rocky & Tyler The Creator – WANG$AP
It feels like every week we see a headline of A$AP Rocky promising that this project is coming, and Tyler The Creator telling him he's stupid and that it doesn't exist. I assume we've all heard "Potato Salad", the barrage of lyricism and personality they released last year (with over 22 million views on Youtube) and I assume we all loved it. So guys, come on! Just give us the project.  I can picture the luscious production of Tyler now with Rocky in his LiveLoveASAP bag again; I can almost smell it.
Drake & Kanye West – Calabasas Is The New Abu Dhabi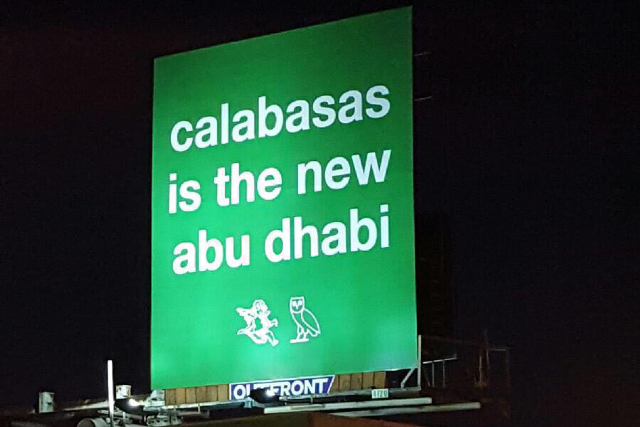 Man, there was even billboards around L.A for this one. Drake and Kanye looked ready to release a collaborative album in 2016 and judging by the similarities in their styles and cadences, it would have been amazing. But of course, the fans were stripped of the pleasure of receiving this album, because the two always end up having this weird beef where Drake doesn't feel the approval of his idol, and Kanye feels threatened by the younger radio artist. Hopefully one day, they can coop up in Wyoming and give us the album we deserve.
Juelz Santana & Lil Wayne – I Can't Feel My Face
So Lil Wayne could give us Rebirth, but not this? Quite frankly, it's offensive to the stans. This would have been Juelz Santana in braggadocio mode and Lil Wayne at his peak! It was reported last year that this collaborative mixtape was actually finished, so we might actually get it one day. But quite frankly… a little too late.
Metro Boomin & Young Thug – MetroThuggin
Metro and Thugga already have a slew of amazing collabs. "The Blanguage", "Up To Something", and "Hercules" to name a few. And since they consistently work together, it seems like this collaborative project would make sense. Yet, we never received it, and I assume it's because of the plethora of leaks that Young Thug was the victim of around the time this project was announced. Hopefully one day they can lock in the studio and give us a full project because when Thug and Metro work together, it's always fire.
---